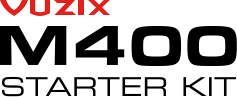 Longevity Series
€2.215
,20
(ex VAT: €1.846,00)
Our M400 Starter Kit includes some of our best-rated accessories for our flagship device. The kit focuses on employee performance, comfort and safety. You can view all available M400 accessories here.
Add the flexibility of using all the top selling viewer mounting options in one kit. With the M400 Starter Kit you get the most advanced product in the Vuzix M-Series family, plus:
Safety Glasses Frames (medium size)
Headband
Hat Mount with Vuzix Hat
Power Bank 3350
Safety Helmet Mounts
Longevity Series
€2.046
,00
(ex VAT: €1.705,00)
The M400 is the benchmark for the smart glasses industry. Its outstanding camera provides the best field service and vision-picking capabilities on the market. Its ruggedized mechanical design is ideal for users working in harsh environments. It is two-meter drop-tested and IP67 rated for waterproof and dustproof operation.
Our flagship device was chosen by Qualcomm to feature their groundbreaking Snapdragon XR1 microprocessor, designed specifically for smart glasses. This microprocessor enables a combination of voice and touchpad navigation for complete control over your device.
The M400 improves processes within many applications such as warehouse logistics, tele-medicine, manufacturing and field service. New apps are constantly being added to the Vuzix Appstore to enhance efficiency, accuracy and the user experience.
Autofocus (PDAF)
Up to 12.8-megapixel Stills
Up to 4K Video
8-Core Qualcomm XR1
Android 9.0 OS
Smart viewer weighs only 68g
Three noise cancellation microphones & Qualcomm truevoice for hands-free voice commands
Mounting System for Functional Accessories
Ruggedized to IP67 Standards for Water and Dust.
Drop Tested 2 Meters.
Longevity Series
The M400 and M4000 series smart glasses are built on the latest "state of the art" technology available and as such are part of Vuzix M-Series longevity solutions. From the OS and OS upgrades, to software support and system security right through to the smart glasses themselves, these solutions are premier in the industry and here for the long haul. We know there is a lot of time and resources invested into new technology deployments. Vuzix intends to support that investment for our customers. From compatibility to the latest technology, you get the best from Vuzix.
Mounting Options
M-Series Safety Frame Kit (Prescription Ready)
446T0A022, 446T0A001, 446T0A023
Technical Specifications
Optics
Display resolution: nHD color display
Display type: OLED
Aspect ratio: 16:9
Field of View (diagonal): 16.8 degrees, equivalent to a 5 in. mobile device screen seen at 17 inches
Brightness: > 2000 nits
Contrast: > 10,000:1
24-bit color with true black
Supports left or right eye use
General
8 Core 2.52Ghz Qualcomm XR1
6GB LPDDR4 RAM
64GB internal flash memory
Android 9.0 OS
OS and apps OTA upgradeable
MDM available from multiple partners
Certifications
IP67
Drop safe to 2 meters
Mounting options
Vuzix M-Series Rail Eyeglass frames without lens (standard)
Weighs less than 3 oz.
Eyeglass frames with lens
Safety glasses
Hard hat mount
Headband mount
Peltor headphone mount
Battery
135mAh internal battery supports hot swapping of external batteries
750 mAh head-worn USB-C external battery with 3-level LED indicator
Can be powered by 3rd-party USB battery packs in place of head-worn battery
2 – 12 hours of operation based on external battery choice
Controls
3 control buttons
Voice control – customizable and supports multiple languages
2 axis touchpad with multi-finger support
Audio
Integrated speaker (up to 97db output)
Triple noise-cancelling microphones
BT audio: HSP / A2DP
Camera
Up to 12.8-megapixel stills
Up to 4k30 video
Improved auto-focus (PDAF)
Improved optical image stabilization
LED flash/scene illumination
Barcode scanning
Connectivity
USB 3.1 Gen 2 on USB Type-C
Wi-Fi 2.4/5Ghz 802.11 a/b/g/n/ac
Bluetooth 5.0 BR/EDR/LE
Head Tracking
3-degree of freedom head tracking
3 axis gyro
3 axis accelerometer
3 axis mag/integrated compass
Supported Languages
English
Spanish
French
German
Mandarin Chinese
Japanese
Environment
Operating temperature 0-45ºC
Operating humidity 0-95% RH
Storage temperature 10-45ºC
Storage humidity 0-95% RH
How-To Videos
Major Market Solutions
Powered by Vuzix Smart Glasses and Our Solution Partners
Companion App for your phone
The companion app for Android and iOS enables easy set up and communication between your smartphone and M400. The app benefits from monitoring for your smart glasses, access to apps, and a keyboard.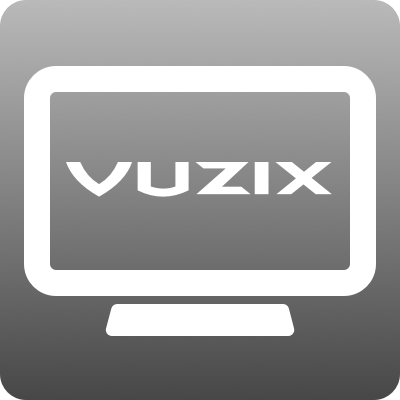 Vuzix View
The new Vuzix View mirrors and controls the screen of your Vuzix device to your Windows PC or MAC computer.
Learn More