Accelerate your operations with AR smart glasses

Streamline Warehousing,
Picking and Expediting with AR Smart Glasses
reduce errors and speed pick times
Vuzix smart glasses allow logistics professionals to pick orders with unprecedented comfort, speed, and efficiency. The voice-controlled displays feature integrated barcode readers and let workers view inventory data in the corner of their eye.

Super lightweight and built for all-day comfort, Vuzix smart glasses improve workplace safety and worker satisfaction. Plus, our extended life battery means your team will be supported the long haul, day in and day out.
Warehouse Logistics Results to bank on
15% performance increase related to receiving, decreasing the average depalletization time by 4 minutes.
24% performance increase for put away activity, decreasing average slotting time by 22 minutes.
20% performance increase in picking, decreasing average order processing time by 16 minutes.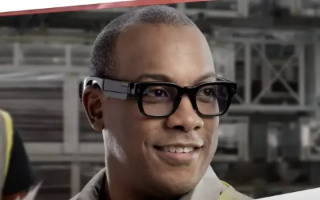 "This technology frees both the hands of the operator and makes the human job easier overall. This is not science fiction. This is real. This technology gives us extra speed to serve more customers without compromising on quality or accuracy."
-Gurumurthi Shankar, Chief Commercial Officer at Global Shipping and Logistics (GSL)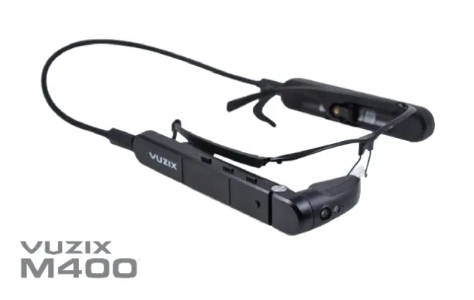 It's time to explore the benefits of AR technology.
Enter the discount code
SMART WAREHOUSE
at checkout to save 5% on any of our workhorse M-series smart glasses.
(M400, M400C, M4000)
Our sales support team is ready to get you up and running in less than a day. Get started today.
Vuzix Partners with the Best to Deliver the Best to You


Maintain a High Level of Accuracy
Avoid order fulfillment errors with our warehouse picking solutions.
Eliminate manual processes and enable hands-free mobility with our AR technology.
Streamline the Working Environment
Replace bulky equipment and in-aisle congestion with our lightweight and comfortable headworn computers.
Provide Real-Time Feedback
Support robust interaction and communication among workers, managers, and software.
Create a Safe and Productive Workplace
Record training videos and give on-the-job remote guidance to new employees.
Optimize Warehouse Logistics with AR Smart Glasses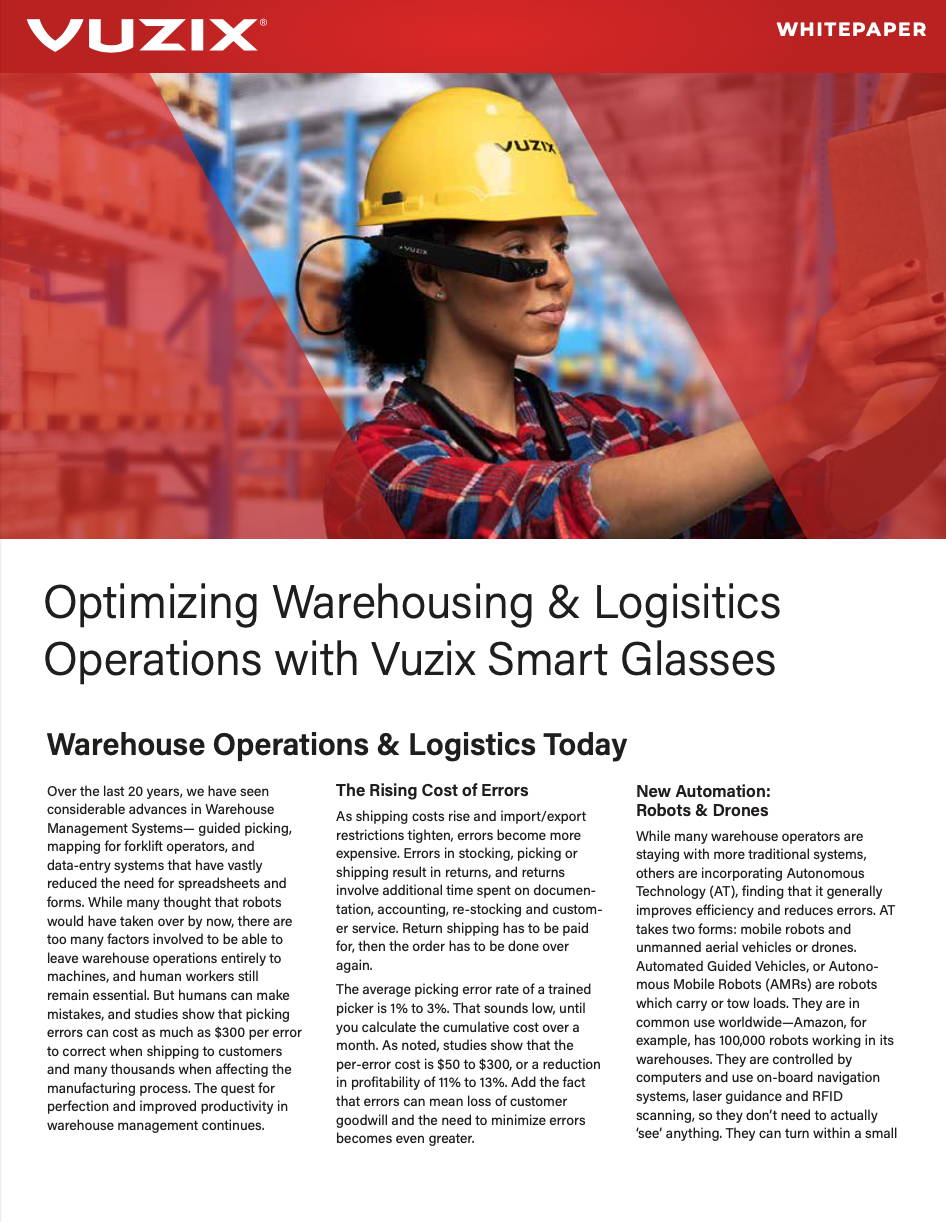 Download the Vuzix Warehouse Logistics White Paper
This white paper provides an overview of how AR smart glasses streamline warehouse, picking and expediting operations. Businesses that equip their team with Vuzix M400 smart glasses save time and money, as workers are able to process orders with greater speed and accuracy. Additionally, you'll learn how AR smart glasses help warehouse managers tackle rising shipping costs and increased import/export restrictions.
SEE VUZIX M400 SMART GLASSES IN ACTION
Learn how easy it is to integrate Vuzix smart glasses into your workflows so that you can improve quality, streamline production, and reduce costs.
Our smart glasses are the most comfortable on the market — but don't just take our word for it! Try them on and see for yourself.